The law is the law: persons under the age of 21 in the United States are legally bound from purchasing or consuming alcohol. Nonetheless, there is the philosophy that advocates how some parents, under direct supervision and at their own discretion, may choose to serve small quantities of wine, beer, or other beverage to their children. Under ideal circumstances, there could certainly be benefits to this practice; for instance, it helps demystify the "taboos" associated with alcohol consumption, something that has been suggested as a way to prevent young adults from breaking the law and illegally obtaining alcohol so they can experiment on their own terms. Given this situation, it is arguable that responsible parents giving their children limited, controlled access to an alcoholic beverage might be educational, whereas seeking it out and using alcohol on their own may lead to excessive recreational use, as well as a tendency to try and hide such activity from their loved ones.
The argument remains, and the way it is interpreted by individuals in various cultures around the world differs no less than it does here in the states. Recently, an Australian Liberal "backbencher" named Luke Simpkins has proposed that fines be placed on those who provide children with alcohol; even if it takes place in the home under strict parental supervision (note that the Liberal Party of Australia is actually considered "right of center," and is associated with what would be labeled conservative politics in the United States and England). According to an article featured in the Australian Chronicle, Simpkins says that, "Given it is illegal for pubs and clubs to supply alcohol to persons under 18, that should be extended to all parents."
He added that, "Given brain development and maturity levels, it would be an excellent idea that it should just not be allowed lock, stock and barrel." Of serving the traditional glass of wine with dinner, Simpkins said absolutely none at all would be "the right way to go."
Mr Simpkins has also claimed that children introduced to alcohol at earlier ages tend to be more likely to develop alcoholism later in life. Ironically, the legal drinking age in Australia is still 18, rather than 21 as it is here in the States. "I certainly won't be allowing my kids to have alcohol until they are 18," Simpkins told Australia's Associated Press recently. Meanwhile, countries like Tunisia support a legal drinking age of 15, and still other countries such as Armenia and Cambodia have no law-enforced age limit on alcohol consumption at all. On the opposite extreme, Kuwait and Afghanistan simply make alcohol consumption illegal for everyone, as does Pakistan (with the exception of non-muslims, who are allowed to drink at age 21).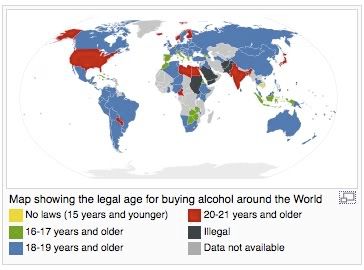 At least superficially, Simpkins' assumption that younger drinkers leads to alcoholism may appear accurate, as there is some scientific data that supports this. However, a more visible trend worldwide has to do with the way that countries with lower legal age limits tend to consume more alcohol annually than those with age limits like 21. The map above shows countries and their according legal age limits, which, if compared to the map below that displays alcohol consumption country-by-country (darker colors representing the most consumption), a trend between countries with a legal drinking age limit of 18 and higher yearly alcohol consumption becomes visible.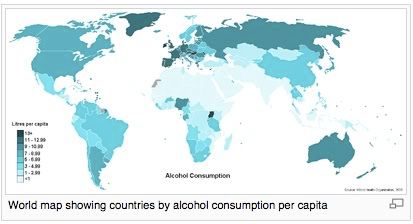 Still, one must question whether this could also be influenced by population density, or any cultural, regional, or even climate-related situations. No doubt, the statistics are available, but time is needed to draw the proper parallels and associations. Regardless, how does all this reflect on the argument as to whether parents should allow their children to drink under supervision at home? Is it a good idea, or is it simply to potentially dangerous in the long run?