Something that is particularly enjoyable for me about the arrival of cool weather and the colorful change in seasons is getting to visit beer tastings here in USA's Beer City (East) that feature one of my favorite seasonals: the pumpkin ale.
After a fairly slow rise in popularity, there are now a good variety of these available on the market, ranging from those offered by smaller crafters across the country, to more mainstream companies like Blue Moon, who offers their own Harvest Moon pumpkin ale for purveyors of the pulpy punkin pour.
Recently, Culture of Spirits writer Christopher McCollum joined my girlfriend, my younger brother, and I in attending a generous sampling of different pumpkin beers at our neighborhood brew supply shop Hops and Vines. Among the beers Alex, Chris, and the gang supplied us with, we tried an 8.0% ABV imperial pumpkin ale made by Weyerbacher, cited as "the mother of all pumpkin ales." Indeed, Weyerbacher's brew is spicier, more caramelly, and offers a bit more pronounced pumpkin flavor than many of the others. "We have added lots of pumpkin along with Cinnamon, Nutmeg and a touch of cardamom and clove giving this beer a spicy, full-bodied flavor," the company's website states. "This truly is an Imperial Pumpkin Ale." Indeed, this was one of the most interesting pumpkin beers I've tried to-date, but there were a variety of others that presented spicier, more fruit-filled (or rather, vegetable-filled, since pumpkins are in the squash family) surprises.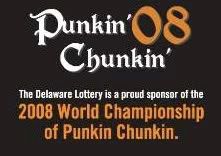 Of all the pumpkin beers we tried, arguably the best was Dogfish Head's Punkin Ale. At 7.0%, the ABV is only a little lower than Weyerbacher's brew, but the overall balance of flavor is crisper and every bit as drinkable. Interestingly, this beer predates the other selections offered by Dogfish Head; prior to the official opening of their Brewery, brewmaster Sam Calagione threw together a batch of his Punkin' Ale and carried out to the Delaware-based annual Punkin' Chunkin' event, where a variety of punkin-lovin' activites take place including cook-offs, live music, and yes, firing pumpkins out of massive homemade cannons. In the video below, Calagione tells us a bit more about the Dogfish Punkin brew's history:
This is one Fall seasonal you shouldn't miss, but do try several and see which pumpkin brews get your Jack-o-lantern-noggin blazing.
Tags: Autumn, fall, imperial, pumpkin ale