By Micah Hanks

EPISODE I: THE PHANTOM GUINNESS
Well, in all honesty, it couldn't be any further from being Guinness without being from Zeta II Reticuli (or Ireland, perhaps). However, the country that concocted the brew in question does share an affinity for making whisky just like the Irish… what in this world–or in space, for that matter–could we be talking about? Read on, ye guzzlers of galactic grog…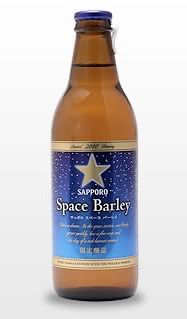 Indeed, Japan's Sapporo company has brewed what is being heralded as the first "space beer." An article featured recently at the Wired blog shells out the scoop for us:
The beer was made with grains descended from barley that spent five months in the Zvezda Service Module on the International Space Station. The very limited results, just 250 precious six-packs, will be sold through a lottery for 10,000 yen ($110) each. But only people living in Japan are eligible. Sigh.
Nonetheless, does this indicate that the future of manned vessels exploring the outer limits of space will contain ingredients necessary to make batches of space beer? Keep in mind that even the Pilgrims brought more beer aboard the Mayflower with them than water… it seems to be a tradition, of sorts, that travelers to new lands bring their brews with them. Perhaps when we finally do meet E.T. we can offer him a cold one; but not too many, or else he may have to phone home for a ride!