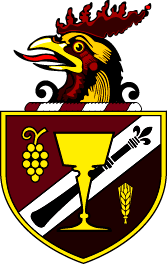 Cocktail aficionado Robert Hess, described by Gary and Mardee Regan of Ardent Spirits as "a computer geek with a huge passion for all things cocktailian," is arguably one of the leading proponents of a classy, sophisticated (but not snobbish) cocktail culture in America today. His recipes are flawless, his knowledge is endless, and his lucid insights and charming demeanor pour over ice almost as well as expensive bourbon.
Therefore, it's no surprise that a gentleman of Hess's caliber also orchestrates the likes of "The Chanticleer Society", a nonprofit organization aimed at helping instill (or in this case, perhaps distill) in people a sense of appreciation for mixology as a respected culinary art unto itself.
"There is a rapidly growing appreciation for the culinary art of the cocktail," Hess says. "We are seeing an increased interest in bartenders across the country to socialize and exchange recipes, research, tips, and opinions about drinks from the past, as well as new classically inspired creations they may be making. Many of these bartenders are drawing together into local bartender guilds to provide a formalized structure and communication network that their members can benefit from. Such a guild is rightly designed by, and for, bartenders. This however makes it difficult for the growing number of non-bartender cocktail enthusiasts to feel that they can play an active role in the study and advancement of the cocktail."
Thus, enter the Chanticleer Society.
Hess says the group was created "in an effort to establish an organization that will be designed by cocktailians, for cocktailians, and allow them to gather together and exchange information and insights." The unique name, based on a newspaper clipping from 1843 that offered the term "Chanticleer" as a more refined alternative to the vulgarly intoned "cock tail", reflects the refined cultural aspects of the endeavor "while providing an enticingly mysterious designation as well." Finally, Hess also defines his role in helping broaden today's "cocktails with class" movement: "One goal of the Chanticleer Society is to establish ambassadors around the world who will be able to provide local details and information about bars, bartenders, and cocktail trends which will aid others in knowing where in their area to go for a great cocktail experience. These ambassadors will also be expected to promote appreciation of the cocktail to bars, bartenders, and customers in their area."
To learn more about Robert Hess and the Chanticleer Society, follow this link:
Tags: Chanticleer Society, Robert Hess